It has been nearly 20 years since the first appearance of robotics in the operating room. In that time, much progress has been made in integrating robotic technologies with surgical instrumentation, as evidenced by the many thousands of successful robot-assisted cases. Robotic technology offers the unique opportunity to control the operational process outside the actual location, with the skilled and often expert operators not necessarily being physically present.
In 2022, while the global focus is on artificial intelligence, the field of robot surgery is also progressing at an exceptional pace. A surgical robot is a self-powered, computer-controlled device that can be programmed to aid in the positioning and manipulation of surgical instruments, enabling the surgeon to carry out more complex tasks. So in the year 2022 can we expect robots in the operation theatres soon and what would be the pros and cons of robotic surgery?
India's eminent laparoscopy Surgeon Dr Amita Jain in her journal titled, "Robotic Surgery: Future of surgery", shares although still in its infancy, robotic surgery is a cutting-edge development in surgery that will have far-reaching implications. While improving precision and dexterity, this emerging technology allows surgeons to perform operations that were traditionally not amenable to minimal access techniques.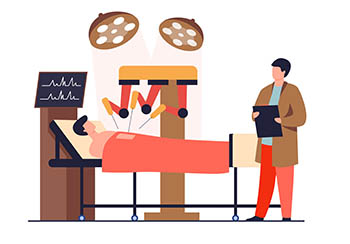 You can the read the complete study at https://www.worldwidejournals.com/indian-journal-of-applied-research-(IJAR)/article/robotic-surgery-future-of-surgery/MTY3MDA=/?is=1&b1=525&k=132
Dr Amita Jain is a surgeon with highest degree of professional competence, precision and surgical craftsmanship. Performed all complicated general surgery procedures with in depth knowledge of invasive and few minimal invasive and onco surgical techniques. Underwent special training in trauma, executed various trauma-related complex life-saving neurosurgical procedures, reconstructed injured mangled limbs and performed vascular and reconstructive procedures with critical care.
Dr Amita Jain holds 28 plus years of rich experience in Trauma and General Laparoscopic Surgeries (including Gallbladder stone removal, appendix removal, hernia repair surgery, piles and fissure surgeries). She was the Professor Surgery of at the Army College of Medical Sciences and Base Hospital Delhi Cantt. In 1994 she was commissioned as Surgeon under the United Nations Mission in Congo. From 2020 to 2022, she worked with Bansals Hospital. Currently, Dr Amita Jain is the Senior Consultant, (Speciality: General and Laparoscopic Surgeon) at Artemis Lite Hospital, New Delhi